VetMed Manager TM
Empowering your business With Custom-made Software Applications.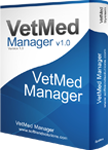 VetMed is a customized veterinary software will cover all the features required for a veterinary clinics.
Leveraging a robust, scalable, and rapidly customizable medical records platform, VetMed can help you get your clinic up and running more efficiently


VetMed is a typical desktop client/server system with an additional web portal that can be leveraged for both an online presence for your Clients and remote access for your physicians.
VetMed Manager Features
Client Management
Pet Registration/Scheduling
Pet Charts
Clinical Notes, Medical Records
Medications, Allergies, Orders,
Prescriptions, Lab Results,
Consultations/Procedures
Results, Discharge Summary
Billing & Administration
Pet Boarding scheduling Kennels, Cattery
Radiology
Pet Shop
Laboratory
Data migration
Key benefits of using VetMed Manager :-
Improved property management
Better Debt Collections
Reduced paper work and administration costs
Easy reporting
Downloads
Are you an insurance Agency / Broker Provider?
Learn about IMBS Package Software Suit for Insurance Brokerage Agencies..